The Red Lion Pub
The Red Lion Bar & Grill
Myddle
For the latest information
Visit our website
http://www.theredlionmyddle.co.uk/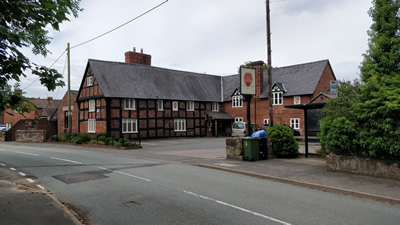 The public house of Myddle is The Red Lion, a now modernised country pub and restaurant. This is an old building and is partly attached to Myddle Village Hall which was once the village school. It was built at least 300 years ago and is probably much older. It is a Grade 2 listed building. Outside the spaces between the old beams have been filled with bricks and these are younger than the beams. Inside the rooms are low with oak beams showing on the ceiling and in the wall. When cockfighting was allowed, there was a cockpit in the kitchen of this inn.
The Grade 2 listed description:-
House, now inn. Early C17 and mid-C17. Timber-framed with red brick nogging, partly rebuilt in red brick; extended in dressed red sandstone; slate roof. Framing: small square panels (4 from sole plate to wall plate) with short straight corner braces. L-plan; 5 framed bays at right angles to the road with later wing to north-east. 2 storeys and gable-lit attic with the addition of one storey and attic. North-east front: external lateral brick stack off-centre to left at the rear consisting of C19 brick shaft with pilaster strips, central open diagonal brick decoration and C20 cap. 3 first-floor windows and 2 ground-floor windows; mid-C19 one-, 2- and 3-light wooden-framed cast-iron lattice casements. C20 boarded door to right with small flanking windows and enclosed late C20 gabled wooden porch. Gable end on to road: ground-floor 3- light lattice casement and first-floor 2-light lattice casement. Jettied gable probably restored in late C19 or early 020 with moulded bressumer on cusped brackets and truss with 2 collars. 2-light C19 cast-iron lattice attic casement. North-east wing: 2 large gabled semi dormers with 3-light wooden casements and planted timbers; large central integral lateral brick stack to front with pilaster strips and central open diagonal brick decoration. 3 ground-floor C20 diamond-leaded wooden casements. Evidence of blocked doorway between first and second windows from the right (see straight joints). Interior: chamfered beams; pair of large open fireplaces with chamfered wooden lintels. David G. Hey, An English Rural Community: Myddle Under the Tudors and Stuarts, Leicester University Press (1974), p.87n.