Phase 1 Survey training
1 June 2011
Gareth Parry came to Myddle to train us in the use of the Phase 1 Habitat Survey system.
Following an explanatory talk in the Village Hall, we ventured across the road to a small wood, leading to the recreation ground and fields beyond.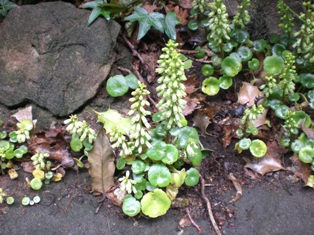 Here we spent time practicing our new mapping skills and identifying and recording a variety of habitats.
While doing this we found our first Shropshire Axiophyte, Navelwort, or Wall Pennywort, which grows in many stone walls in the area.