»

History
Sleap Airfield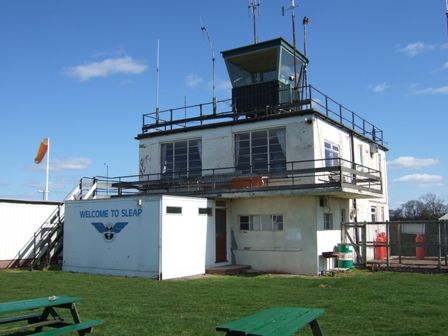 Sleap Airfield Control Tower
Wartime History
Sleap Airfield was built in 1942 on land belonging to Lower Houlston Farm, as a satellite airfield to R.A.F.Tilstock. It was a training ground for bomber crews flying Whitley bombers, and the "pans" where the bombers were dispersed can still clearly be seen.
As the crews were inexperienced and night flying had to be practiced, several serious accidents occurred, leading to injuries and fatalities among the crews and on the ground. On at least two occasions planes hit the control tower, killing crew members and also W.A.A.F.s and other personel working in the tower.
At one time a whole squadron of American Flying Fortresses landed there when poor visibility made it impossible for them to reach their home base.
Later in the war crews were trained to fly Whitley bombers towing Horsa gliders ready for the D-Day invasion.
Around the perimeter track can be found a ruined building where rear turret training was performed, apparently the only one of it's kind in the country.
The airfield closed at the end of the war, but was reopened shortly after and used by R.A.F. Shawbury until 1968.
Shropshire Aero Club
Today the airfield is home to the Shropshire Aero Club, a thriving training school and private flying club, with some four hundred members flying light aircraft. It is also used again by R.A.F. Shawbury as a landing and hovering training ground for their trainee pilots, including of course Princes William and Harry.
There is a family-friendly restaurant housed in the control tower, which is open to non-members, and is also home to a museum housing World War 2 aircraft parts and artefacts recovered from local crash sites, a fitting memorial to the airfield's early days.