»

History
Myddle War Memorial
Myddle War Memorial - St Peter's Church - Myddle
Myddle War Memorial - Details of each soldier named on the war memorial sited in Myddle Church Yard and the details of the memorial restoration project.
Myddle Parish War Service Medals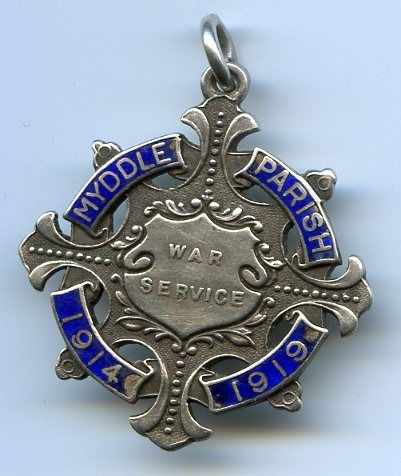 Does anyone have any information about the Myddle Parish War Service Medals that were awarded to returning service men from the parish?
Please send an information to contact@myddle.net
2 World War 2 Soldiers who were casualties from the parish.
John Richard LLOYD
Driver J. R. LLOYD, 3 Div. Ammunition Supply Company, Royal Army Service Corps,
Service No. 67701.
Died 10th April 1940, aged 19.
Buried at Fouquieres Churchyard extension, Bethune, Pas de Calais, France.
John was born in Harmer Hill on 26th May 1920, the son of David William and Alice Mary Lloyd. The 1939 Register records John's mother and three siblings were living on the Wem Road at 22 Harmer Hill. The enumeration day for the Register was 29th September 1939 and by then John was serving in France and his father was staying at a boarding house in Aberystwyth while working as a telecommunications foreman for the General Post Office.
John enlisted in the Royal Army Service Corps Supplementary Reserve on 22nd August 1938. The Supplementary Reserve allowed men to volunteer for service in the army in time of war in a trade that matched their civilian occupation. John's stated trade on enlistment was mechanic.
He was mobilised and posted to 23rd Company Royal Army Service Corps on 1st September 1939 and he embarked at Falmouth for France with 3rd Division Ammunition Company on 29th September 1939. The company landed at Brest on 2nd October and moved by road via Sille-le-Guillaume to Bailleul on the Belgian border. After operating from there for a couple of months they moved to Hames near Calais. On 10th April 1940 John was involved in a motor cycle accident and was taken to 9th Casualty Clearing Station at Beuvry with a suspected fracture at the base of the skull. He died there later that day.
John was awarded the 1939/45 Star and the War Medal 1939/45.
Henry Pakenham Grenville CHOLMONDELEY
Lieutenant H. P. G. CHOLMONDELEY, 6th Battalion Grenadier Guards,
Service No. 262096.
Killed in action 7th November 1943, aged 20.
Buried Cassino Cemetery, Italy.
Grenville was born in London on 5th March 1923. He was the only son of Henry Arthur and Hilda
Mary Cholmondeley. His mother died in 1923 and his father later lived at Shotton Hall, Harmer
Hill, Shropshire, which remained his home until he died in 1952, aged 96. Grenville was educated
at Harrow School where he became head of school. He played cricket for Harrow and opened
the batting for them against Eton College in 1942.
Grenville joined 161 Officer Cadet Training Unit at Aldershot straight from school in the autumn
of 1942. He was commissioned as a Second-Lieutenant on 5th February 1943 and was posted
to Training Battalion Grenadier Guards at Windsor. On 12th August 1943 he embarked for
service overseas and on 14th September he joined 6th Battalion Grenadier Guards at Verdesca,
Italy. The battalion had landed at Salerno a few days previously and began its advance north
soon after Grenville joined it. At Caserta they spent some time practising the use of wood and
canvas assault boats expecting to lead the crossing of the River Volturno. In the event they
were not required for that duty and crossed the river on 15th October using a bridge that had
been built by the Americans.
After crossing the river the battalion moved up to relieve an American unit and for the next
sixteen days they were in constant contact with the enemy as they advanced along a series
of small hills towards Camino. Monte Camino and its outlying spurs and gullies fill the seven
mile gap between the Naples road and Garigliano and as such was a formidable obstacle in
the path of the allied advance. The 201st Guards Brigade was given the task of forcing this
barrier with 6th Battalion Grenadier Guards given responsibility for the assault on the summit
of Camino. The only practical approach to the summit was along a sharp ridge leading to a
flatter but undulating area with several intermediate peaks to the west of the summit itself.
The approaches to the ridge having been secured by another battalion the Grenadiers began
their advance up the ridge just before midnight on 6th/7th November 1943. No.2 and No.3
companies led the advance; Grenville was with No.3 company. After an exhausting climb
through burning brushwood ignited by smoke shells the leading companies reached the first
of the intermediate peaks just as dawn was breaking. At this point the leading companies were
engaged with mortar and machine gun fire as the defenders sprang their trap. Grenville was
among those killed, according to one account hit in the chest by a burst of machine gunfire.
He is described in the Grenadiers regimental history as having "shown outstanding courage
at this critical moment." When the battalion moved down from the mountain five days later its
effective strength was just 260 men.
Grenville was buried under stones on the mountain side and after the battle he was buried
properly by the battalion nearby at Grenadier Wood. After the war he was re-buried by the
Commonwealth War Graves Commission at Casino Military Cemetery.
A stained-glass window was unveiled to Grenville's memory at Harmer Hill Church on 13th
September 1946. When Harmer Hill Church closed, the window was removed and placed in St.
Peter's Church, Myddle.
Grenville was awarded the War Medal 1939/45.