History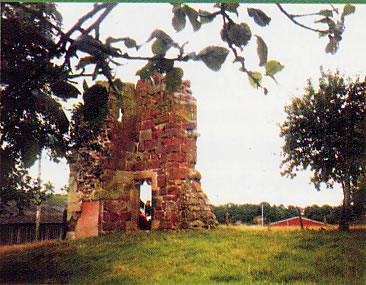 Remains of Myddle Castle possibly a converted house, consructed in 1310
by the current Lord of the Manor, Lord John Le Strange, to protect the family from the Welsh.
Myddle has a varied and long history. Currently several members of the village community are researching the History of Myddle and the results will be added to these pages in the near future.
Last updated October 2009
Last updated April 2006
recalled by GUY HEREWARD
Details of each soldier named on the war memorial sited in Myddle Church Yard provided by Neil Evans
Also known as; Middle; Medle
In the civil parish of Myddle And Broughton. In the historic county of Shropshire (Modern Authority of Shropshire, 1974 county of Shropshire).
Castle, now ruined. Circa 1307 for Lord Lestrange of Knockin. Dressed red sandstone with rubblestone core and red and grey sandstone ashlar dressings. All that remains is the former north-east corner with the remains of a corner stair turret and two sides of the inner retaining wall of the rectangular moat. There is a small rectangular window in the remains of the northern wall and the jamb of a probable large chamfered cross window with glazing-bar holes in the remains of the eastern wall, possibly the indication of a former first floor hall (cf. Acton Burnell). A moulded trefoil-headed doorway with panelled spandrels leads to the remains of the stair turret which still retains the first few steps of a stone newel stair. There are other chamfered reveals and set backs in the remains of the stair turret to the north. There is a stone inscribed "Repaired by the Rt./Honble John Hume Egerton/ VISCOUNT ALFORD/OCTr.1849/[Henry?] Sheraton Steward." There is a block of dressed grey sandstone on the ground to the east of the remains with a carved shield. Moat retaining wall. Dressed red sandstone with some rubblestone. L-plan. Approximately 46m long and 1.5m high forming the inner retaining wall of the section of the rectangular moat to the east of the remains of Myddle Castle and half of that to the south. The section of wall to the south incorporates various fragments of dressed and carved stone probably from the castle buildings including a block of chamfered stone and what looks like part of a window or door head. Late C20 farmbuildings and a yard with a concrete block wall have been built over the moat up against the eastern section of retaining wall. Lord Lestrange (John le Srange) was given a licence to crenellate in 1307. The Castle probably ceased to be occupied c.1500 as it was described as "veri ruinus" by John Leland when he visited Myddle c.1540. Old photographs (Hey) show the tower standing higher than at present (January 1986) but a former ashlar circular or octagonal battlemented top stage and a part to the north collapsed in 1976. It has been suggested that some of this (particularly the top stage) was a romantic embellishment added during the repair work of 1849,
Map grid Reference SJ46902357